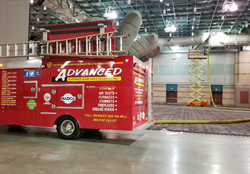 As a business, we know how incredibly important it is to keep your company running efficiently by maintaining a productive, safe, and healthful work environment including employee retention. One key factor to maintaining a clean environment is indoor air quality. According to the Environmental Protection Agency (EPA), indoor air is five to seven times more polluted than outdoor air. Poor indoor air quality can impact employee performance as well as increased absenteeism resulting in decreased productivity. The EPA ranks indoor air pollution (also known as sick building syndrome) among the top five environmental risks to public health. Contaminants found in your duct work is a large contributor to poor indoor air quality. To improve the indoor air quality in your work place, start with hiring a National Air Duct Cleaning Association (NADCA) Certified Professional.
Why Air Duct Cleaning?
NADCA is the leader in the industry and sets the standards for professional cleaning. Air Duct Cleaning can have many benefits including:
Cleaner indoor air quality resulting in a healthier environment
Lower operational and maintenance costs
Energy savings due to improved heating/cooling equipment efficiency
Greater work productivity due to fewer illnesses
Improved government inspection ratings
Cleaner offices, classrooms, facilities and other workplace environments
A more professional image with improved environment
How Often Should the Air Ducts Be Cleaned?
Air Duct Cleaning should be a part of your regular HVAC maintenance schedule to ensure the system is operating at maximum capacity. NADCA recommends air duct cleaning every three to five years; however, the need for air duct cleaning can vary based on setting. For example, food manufacturers, hair salons, dog groomers, and manufacturing facilities that create combustible hazards all require a more frequent cleaning due to the nature of the work. The healthcare industry may also need duct cleaning services on a more frequent basis to help ensure patient safety.
How Long Does it Take to Clean a Commercial System?
The amount of time is really based on the size, scope, and availability of the facility for job completion. Following a proper onsite estimate, we are able to provide man hours in order to complete the job. Things we evaluate during an estimate to determine length of time and price are:
System size
System accessibility
Type of ductwork
Level of contamination
Number of crew members required
Any special equipment needed
The Cleaning Process:
NADCA recommends cleaning the entire HVAC system, including the following components:
Air ducts
Air cleaner
Air filter
Air plenum
Coils
Grills
Drain pan
Registers
Blower motor and assembly
Heat exchanger
The most effective way to clean air ducts is to employ source removal methods of cleaning. This requires a contractor to place the HVAC system under negative pressure by using a specialized, powerful vacuum. While the vacuum draws air through the system, air charged whips are inserted into the ducts to dislodge dirt and debris that have adhered to interior surfaces. The unstuck dirt and debris travel down the ducts into the vacuum, out of the system and the building while leaving no mess behind.
How to Choose a Company?
Use the following checklist as a guide when selecting an Air Duct Cleaning Professional:
Check the longevity of the company
Check their reviews online and from various sources
Ask for a list of previous clients for jobs completed
Get proof the company is properly licensed and adequately insured
Verify that the company is certified by NADCA to perform the work
Ask if the company will take before and after pictures to demonstrate the success of job completion
Inquire into the type of equipment the company will use
Why Choose a NDCA Certified?
To become a member of NADCA, the air duct cleaning company must meet specific requirements including having Certified Air System Cleaning Specialists (ASCS) on staff.
An ASCS must pass the NADCA certification examination, demonstrating extensive knowledge in HVAC design and cleaning methodologies. Additionally, they are required to maintain their certification through annual continuing education.
All NADCA members are required to sign a code of ethics agreeing to protect you the consumer and follow of standards set forth by NADCA.
Ready to Learn More?
Call Advanced Furnace and Air Duct Cleaning to book your FREE onsite estimate. We have been in business for over 56 years, have over 1,500- 5 star reviews, maintain certified NADCA technicians on staff as well as utilize a large fleet of power vacuum trucks. Call 1-800-317-7104.