Indoor Air Quality Experts since 1965
FIVE STAR REVIEWS from
satisfied clients
Family owned and operated since
Successfully completed
homes and businesses
WE SPECIALIZE IN THE CLEANING OF ALL AIR CONVEYANCE SYSTEMS. WE DO NOT INSTALL, WE ONLY CLEAN!
WHAT CAN WE HELP YOU WITH?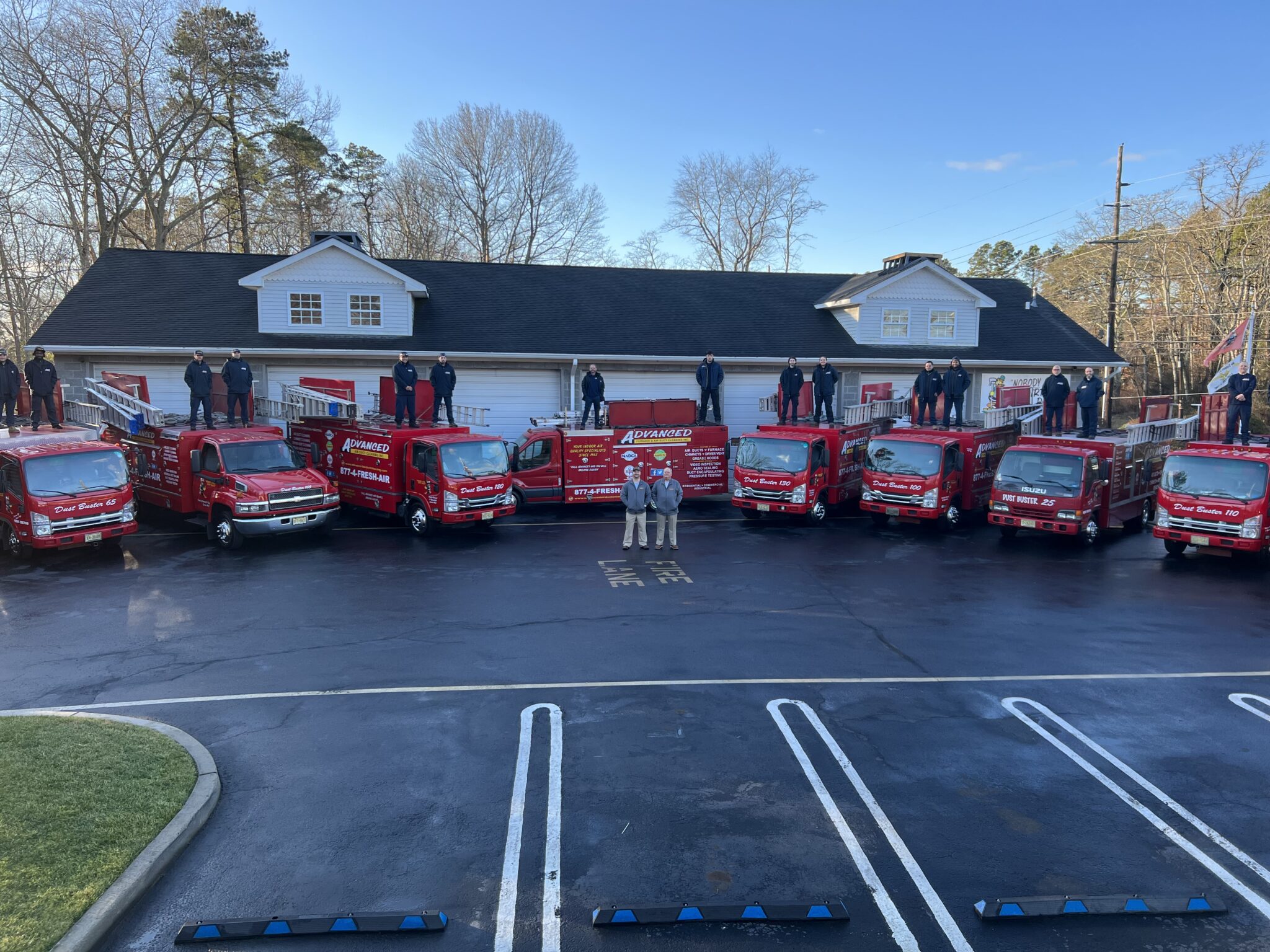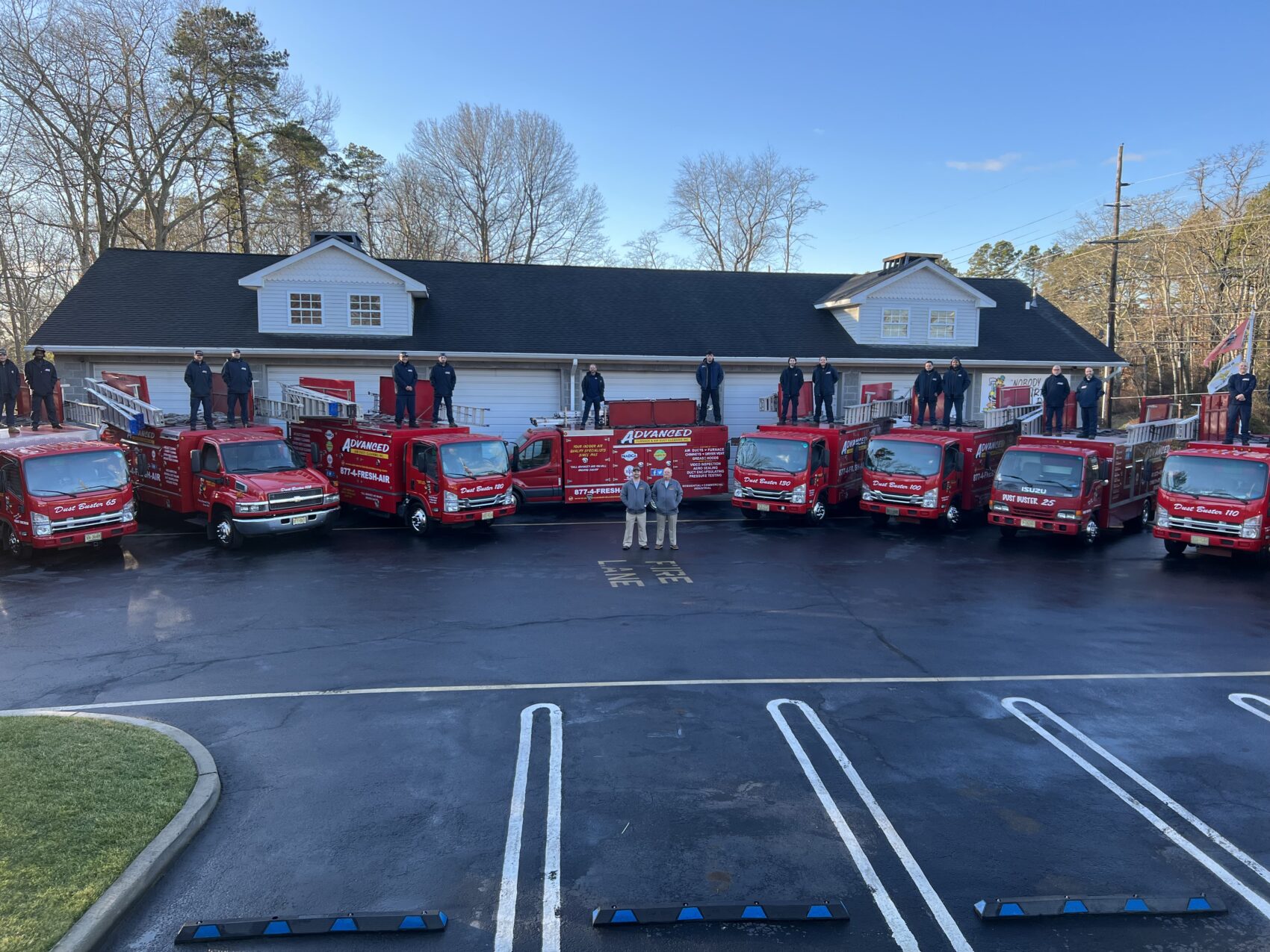 an advanced history lesson
serving all of new jersey & Eastern Pennsylvania for over 50 years
Advanced Furnace and Air Duct Cleaning was founded by August Spano in 1965. August ran the business with one power vacuum truck and the help of his family. August and Jake ran the company together for 10 years until Jake left for another opportunity. At this time, August brought his son, Richard Spano, into the business and together they worked until August's retirement in 1986. Richard took over the business upon his father's retirement.
Over the last 20 years, Advanced Air Duct cleaning has experienced its largest growth spurt standing as the largest air duct cleaning company in the state of New Jersey. It started 19 years ago, when Richard built the company's building located on Route 9 in Bayville, NJ where it remains today. Currently, Advanced is staffed with 20 technicians including 6 certified National Air Duct Cleaning Association technicians and 7 office employees. Advanced Air Duct remains a family owned and operated business. While the business has grown significantly over the past 57 years, one thing remains a constant, family.
STAY UP-TO-DATE ON OUR LATEST PROJECTS & NEWS
This message is only visible to admins.
Problem displaying Facebook posts.
Click to show error
Error: Server configuration issue
After a disaster with Stanley Steemer, advanced squeezed me in in an emergency when every other company told me two months out. The two gentlemen were completely knowledgeable and professional and very helpful especially after we just went through a nightmare with mold. They left me feeling confident that the job was done right. Highly recommend!!!!
They were punctual and explained the whole project to me before beginning. Laid down floor protectants and we're meticulous with their approach. Very friendly and knowledgeable.
Randy and his team were courteous, professional, explained their process, and worked very efficiently to clean the ducts in my home. I was really impressed with their work. There wasn't a trace of dust left in the areas they worked after they finished. Excellent job!
Your Staff is EXCELLENT Both in your office and your technician that came to my home. I cannot express how satisfied I am with Advanced Furnace. It was ABSOLUTELY a wonderful experience. I Highly recommend your company to anyone that needs your service. Bravo finally a company that is truly dependable and does an EXCELLENT service.
Easygoing, very professional and fast. One of the most enjoyable vendors I used during my remodeling of my home.
This company is excellent. Great customer service, solid professional technicians and exceptional quality service. We had a fire in our home and Advanced went out of the way to make sure our home was safe...clean and healthy for us to return and use our heat and air and sent us photos of the work....wow!
I had my Air Ducts cleaned 4 years ago by another company, no way did they do the job like Advanced! | was amazed by the thorough job he did. We didn't get that service before! I will definitely be calling them again!
Night and day difference. If you care about your family this is a must!
Had our new home done today after construction and it was amazing! I can't wait to see the quality in the air and finally stop seeing dust everywhere! Not to mention all the random things they found in the vents... people are strange! Thank you so much! This was great!
Two young guys did a wonderful job! Took the time to cover all the furniture. Cleaned every cover to vents. Wore booties over their shoes when they came into the house. Very polite and respectful people!
Very professional from quote to service to clean up. The techs arrived on time and took the time to explain what the game plan was for my duct cleaning. They were thorough and meticulous. I would use them again.
Following a major construction our contractor, Fred recommended your company for a thorough home duct cleaning of our home. What a great recommendation! Thank you so very much! Your guys were on time and incredibly thorough!!! House smells great/fresh! Awesome service.
Randy did a great job. We just moved into a house and the vents were extremely dusty and dirty. Our furniture would have a layer of dust after 4-5 hours. It's been several days and our furniture is still clean. Randy worked for several hours and we can already tell that the air is cleaner.