residential
dryer vent cleaning
cleaning frequency:
yearly
did you know Dryer fires annually in the US reportedly CAUSE
what is dryer vent cleaning?
Dryer vent cleaning is the cleaning of the dryer exhaust line from the back of the dryer to the exterior of the home. 
why is dryer vent cleaning important?
According to the National Fire Protection Association (NFPA), over 17,000 structural fires occur each year as a result of a dryer fire. The NFPA further states that the #1 cause of a dryer malfunction is not cleaning out the dryer vent, which accounts for 1/3 of all dryer fires. It also increases the efficiency of the dryer itself. The lint and debris that collects in the clothes dryer duct causes your dryer to work harder and run longer. A clogged vent could contribute to high levels of carbon monoxide or even cause a fire.
Why Is Our Process the Best?
We hook our power vacuum truck to the dryer exhaust duct behind your dryer

We send our air whip in from the exterior to dislodge the lint from the walls of the duct as the vacuum truck pulls it right out
We ensure the exit point has full vacuum suction
We then run your dryer to ensure that it is running optimally
What To Expect From Our Competitors
Using a leaf blower from the dryer side of the home. This could go wrong in so many ways, one of which is hitting a clog and having lint coat the interior of home with lint (we have seen this happen many times

) 

Using a drill with a brush at the end.  This way is the worst way to clean a dryer vent for many reasons. When using a brush, they often become disconnected in the wall, leaving a huge problem and often leading to sheet rock removal to retrieve tool. Another issue includes, often times you can form a clog as you are only relying on the air pressure from your dryer to exhaust the lint. Also, who likes to clean up lint that has shot all over your patio furniture, in your pool or just coating your yard? 

Using just air from the exterior.  This way also includes coating all your exterior belonging and yard with lint. Also, this way doesn't ensure it's 100% clog free because each dryer CFM reading at the exit point changes based on length, elbows, and type of material used to run dryer line. This means you could be reading 75 cfms at the exit point on one dryer being clog free but another dryer reads 75 cfms and could be half clogged. 
WARNING signs it's time to clean your dryer vent
The following can occur as a result of a clogged dryer vent: fires, wear and tear on the dryer, high utility bills and carbon monoxide poisoning.
As a part of your home's maintenance program, clean the lint out of the lint trap between each cycle and on an annual basis, call Advanced Furnace & Air Duct Cleaning for your professional dryer vent clean out. Your appliance will thank you and so will your home and family's safety.  
DRYER vENT Cleaning in action
New Jersey Dryer Vent Cleaning
our dryer vent cleaning process
STEP ONE
Advanced connects our power vacuum truck to the duct behind the dryer. This puts the dryer duct under negative suction. 
STEP TWO
Next, our technician will go to the exterior, the point of exhaust located on the outside of your home. 
STEP THREE
Our air charged whip is sent down the dryer duct to dislodge all lint and debris.
How our process is different from the rest
The only fail proof way to guarantee the dryer duct is free of lint and debris is to ensure the dryer duct is under 100% negative suction. In order to get the dryer duct under complete suction, the dryer must be disconnected from the duct and then the duct must be connected to the vacuum truck as we send the air charged dislodger in from the exhaust point of the dryer duct, leaving no mess. We do not use a leaf blower or drill powered brush, as these methods often cause clogs.
We have the proper equipment to ensure this process is done properly to help prevent a dryer fire.
have questions about
dryer vent cleaning?
Advanced Air Duct Cleaning has answers
WHAT ARE BIRD GUARDS AND HOW DO THEY RELATE TO DRYER VENTS?
Birds and other small animals love dryer vents. They can build nests in the line causing serious clogs. You can discourage animals from claiming your dryer vent line as their new warm toasty home by installing the proper guard. Additionally, guards help to prevent back pressure from the outside wind in your dryer duct. Back pressure can cause carbon monoxide to enter your home. At Advanced, we offer both metal and plastic guards for installation depending on the homeowner's goal and budget. 
Can I have my dryer vent cleaned for $49.99?
Unfortunately, companies providing these prices do not complete the dryer vent cleaning properly. They often utilize leaf blowers, shop vacs, brushes attached to drills, and other methods to clean the dryer line. These techniques do not put the dryer duct under the necessary suction to ensure proper cleaning as well as can cause damage and additional clogging. 
How often should I have my dryer vent cleaned?
According to the NFPA, your dryer vent should be cleaned annually or unless you find yourself running your dryer more frequently, a burning smell or the dryer is hot to the touch. In these instances, call right away for a dryer vent cleaning.
How long will a dryer vent cleaning take?
Typically, a dryer vent cleaning will take 30 to 45 minutes from start to finish.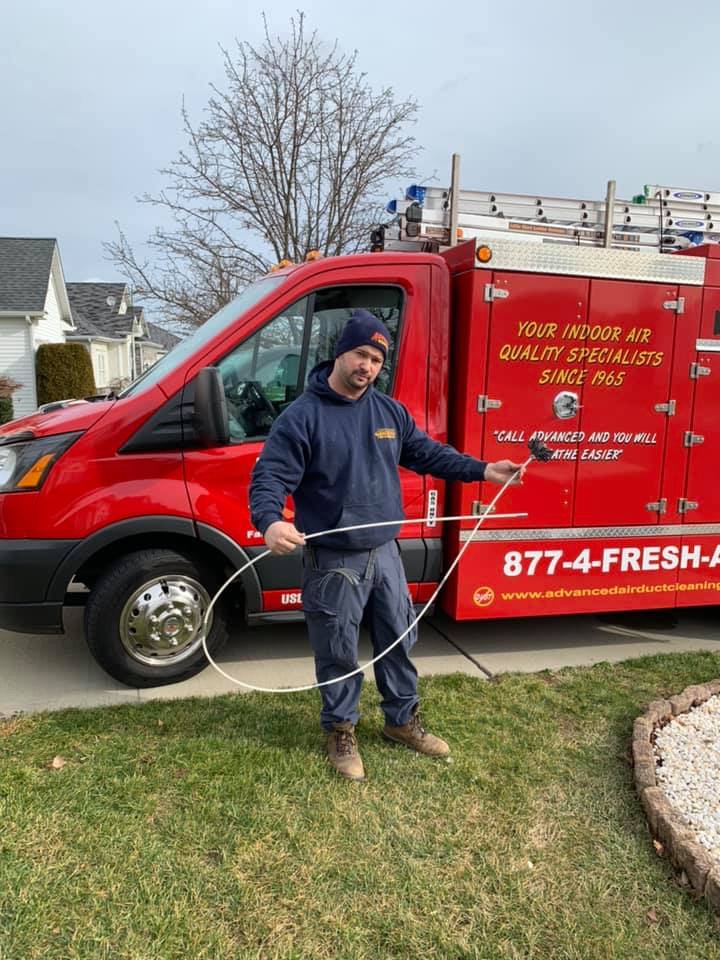 Pictured here is our technician who had to pull out this brush, that was attached to a drill, out of the dryer duct as it broke inside from another company. This happens a handful of times every month. Having the proper equipment ensures the right job done the first time.
residential dryer vent CLEANING TESTIMONIALS
They cleaned my dryer vent after another company did not do it properly. They were extremely professional and a pleasure to work with. Don't make the mistake I did... just call Advanced first and get the job done right! Will not hesitate to recommend doing business with them again!
Did a great job our ducts, vents, exhaust fans, dryer vent and chimney are all cleaned perfectly. And special thanks for chasing down and returning our puppy after he dug his way under the fence! Fantastic company, people and service! Highly recommend it!
Highly recommend it. Have my dryer vent done today. Very professional and courteous team members. Got all my clogs out. Even the 90 degree angle. Very satisfied.
They came to clean out my dryer vent and were knowledgeable, efficient and fast. I will call them to clean all the air ducts when it's due.