The Importance of Marine Air Duct Cleaning
Be it a cruise ship, yacht, small pleasure boat, tug boat or ferry, if it floats on water and has a cooling or heating system, should have regular maintenance. Advanced Furnace & Air Duct Cleaning works for many ferry companies and boat owners, even the US Coast Guard.
Marine air duct cleaning and sanitizing a ship or boats heating, ventilation and air conditioning system should be a very important part of regular maintenance. Boats that use gasoline for electrical generation, mechanical power or propulsion are required to be equipped with a ventilation system. And also must comply with The U.S. Coast Guard Ventilation Standard. Even a natural ventilation system consists of a supply duct and an exhaust duct. In addition many have a blower motor and if your boat has one, and it must be in proper working order. All boat owners are responsible to make sure all openings are free of obstructions, ducts should not be blocked or damaged, and blowers in good operating order.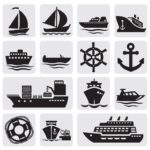 Dirty ducts cause more problems then you may think!
Infectious diseases caused by bacteria or viruses can spread easier in tight quarters. Consequently, the HVAC system could be one source of contamination. Condensate pans, air handling units, condensers and coils can be a breeding ground for algae, mold and other bacteria. Antimicrobials made specifically for duct work and the proper cleaning equipment is key. They guard against odors created by mold and mildew.
There are many products on the shelves that will help mask a musty and mildew smell. The only way you may truly get rid of an odor is to find the source and eliminate it. Let Advanced Furnace & Air Duct Cleaning take care of this for you!
Advanced Furnace & Air Duct Cleaning uses only state of the art equipment and the latest techniques to assure you the job has been done correctly. Maintaining your ventilation system is important because it protects your investment. In conclusion, proper maintenance can extend your cruising season by keeping you cool in the summer and toasty for those late season cruises. Reducing humidity below deck helps your electronics and fabrics last longer.
Advanced is experienced and ready to help. Give us a call at 1-800-317-7104 for a free quote today!